Unlike other providers, we're led by attorneys and child protection experts, and we stand ready to serve your organization.
We'll evaluate your current protocols, explain areas for improvement, and send you competitive pricing.
Background checks should be customized by position
There is no 'one size fits all' background check; background checks should be tailored to the position filled by a potential employee or volunteer. An applicant who will be working with children or students in a less structured and less easily supervised context requires a more in-depth screen. If there are individuals filling positions of trust in your program, you simply cannot afford to be wrong.
Choose from seven levels or create a CUSTOM background check
Our searches can combine any or all of the following:
Search more than 650 million criminal records from 50 states

Sex Offender Registry Search

National Security Watchlist
Effective background checks allow organizations to keep convicted sexual offenders out of children's programs and provide an additional level of protection when utilized as part of the Abuse Prevention Systems' 5-Part Safety System.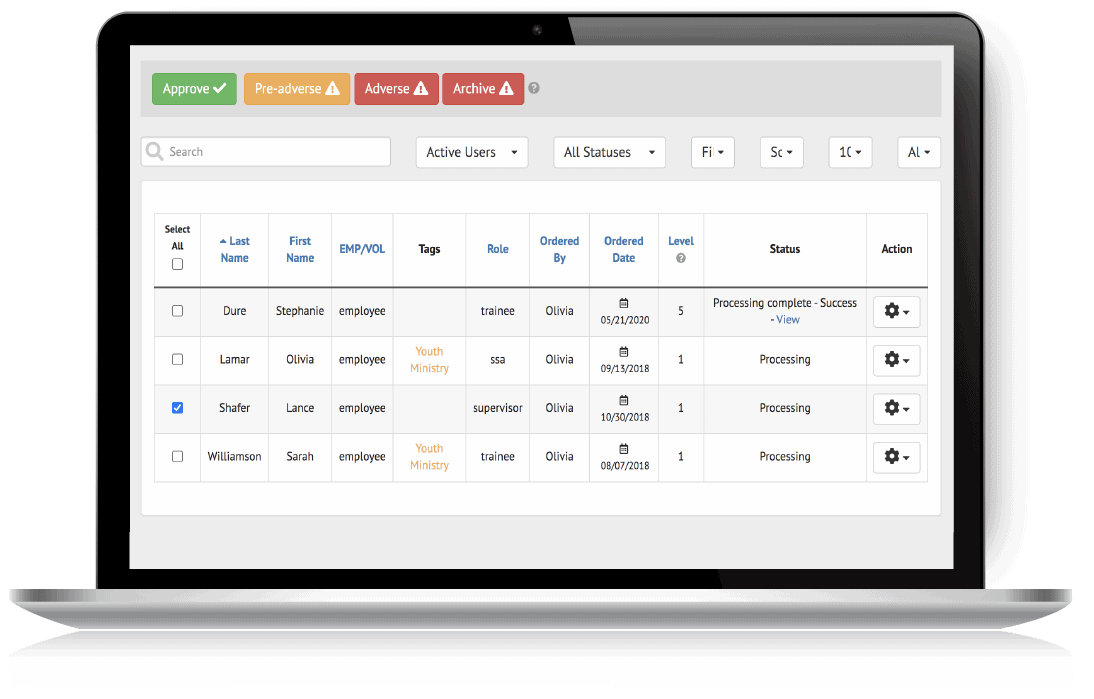 Rely on the system used by more than 
20,000 organizations.
Order, manage and view background checks using software designed for child-serving organizations. 
Simple. Efficient. Seamless.
We built a background check experience tailored for

volunteers.
Volunteers have full lives outside of their volunteer service. We designed the end user's experience to be simple and quick, improving turnaround time and volunteer satisfaction.
Automated email reminders

Built-in authorizations and disclosures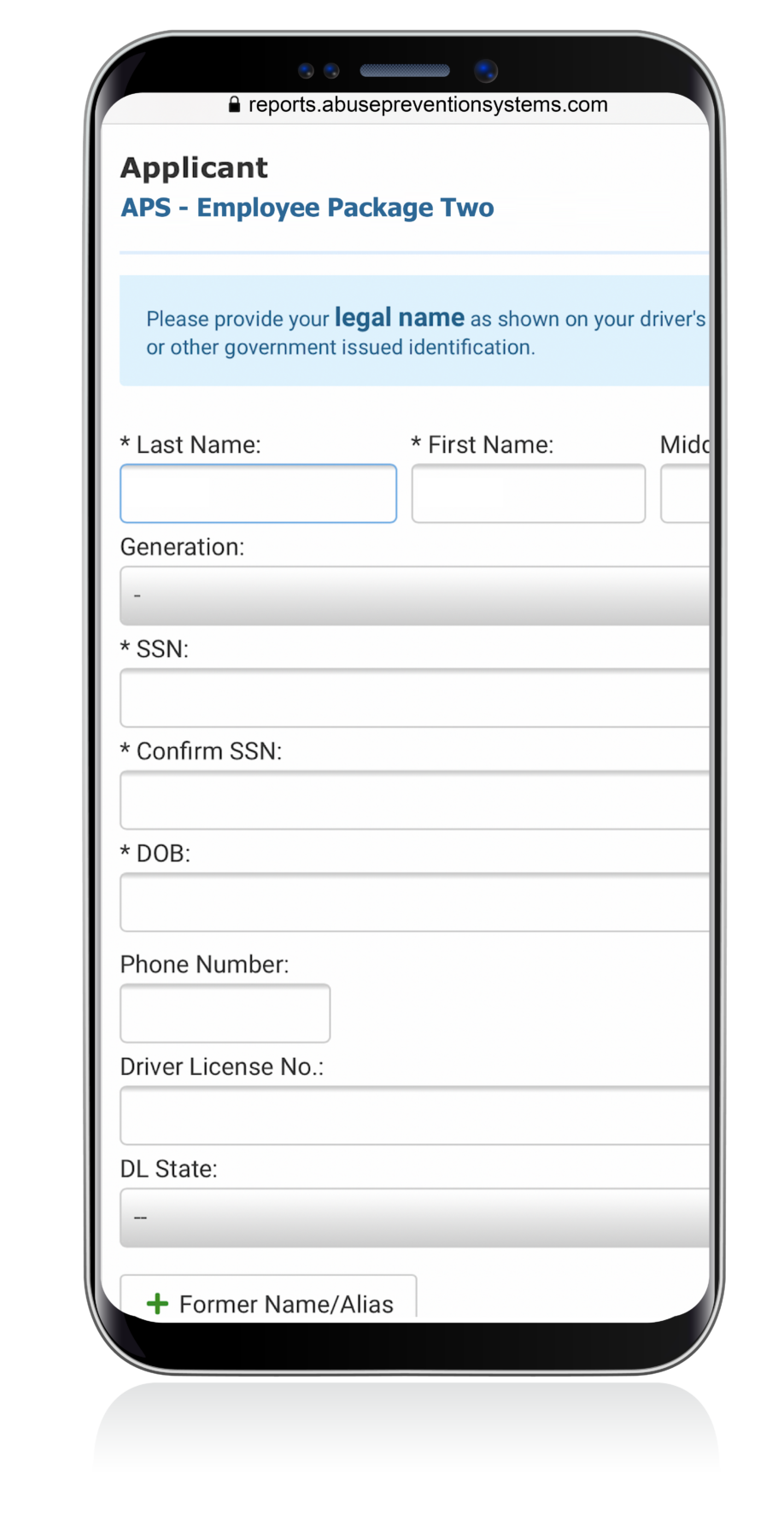 Reports are simple and straightforward
Screening personnel can quickly review reports and identify 'hits' or information warranting further action.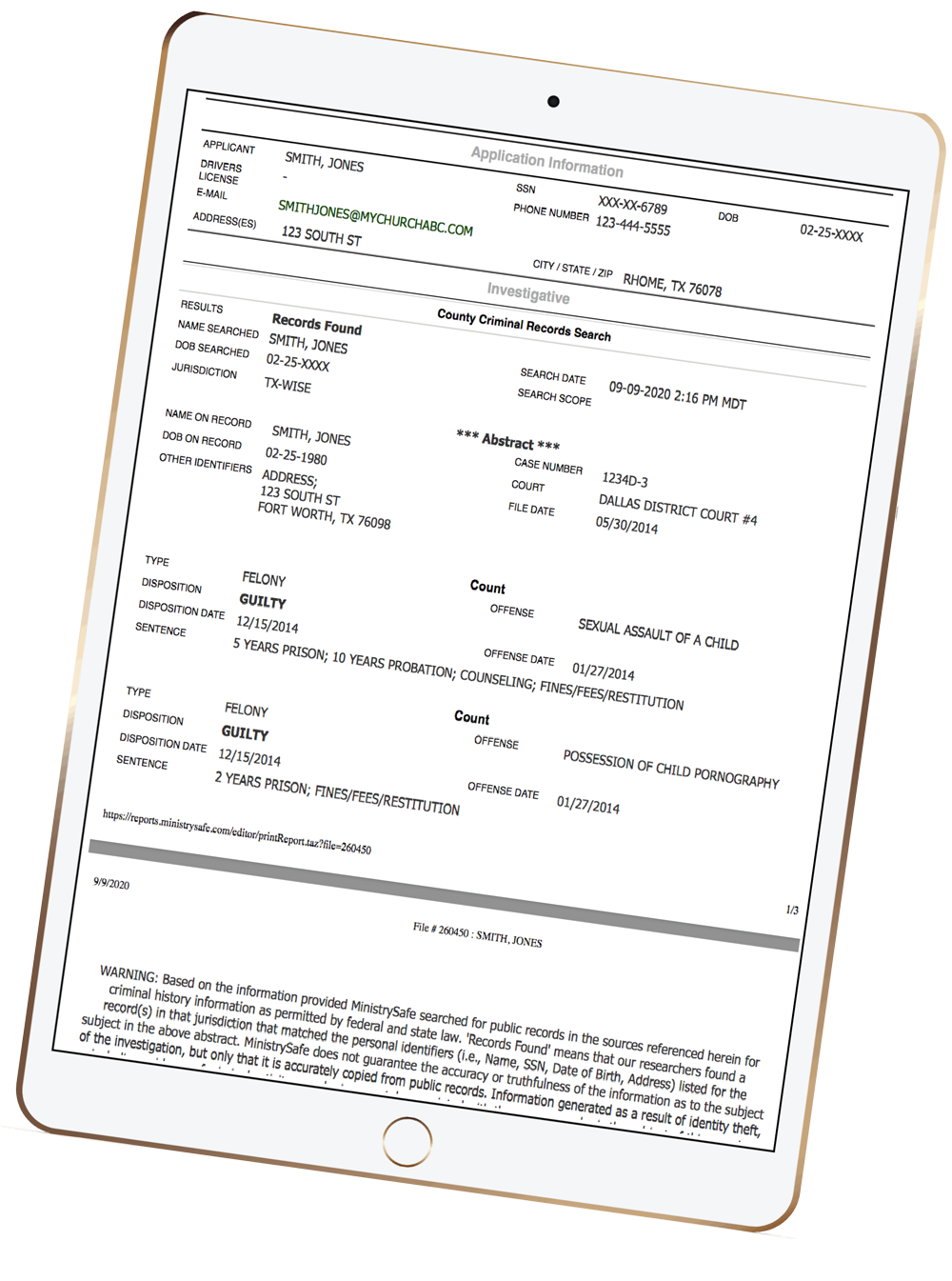 How does your background screening stack up?
Background Screening: Four Reasons to Trust
Abuse Prevention System
Access to Legal Advice if You're in Crisis
At some point, you may come across a report that presents questions with legal significance. Our attorneys and child protection experts help organizations answer questions like this one: "This report shows a drug-related charge 4 years ago. Should this person serve with children?" 
When your organization has questions, turn to trusted legal experts.
Seamless Management That Saves You Time
The Abuse Prevention Systems Control Panel was specifically designed to meet the needs of child-serving organizations – it's simple to learn and easy to maintain – whether you're managing 50 or 5,000 background checks. Administrators can easily order, track, view, archive and refresh background checks. Let our system do the heavy lifting or ask about our integration into a number of other management software.
Comprehensive Training So You're In-the-Know
Screening staff must be trained to recognize high-risk indicators for sexual abusers. Additionally, training screening personnel to recognize RED FLAGS on a background check report is critical, because abusers are often allowed to plea down to a lesser offense resulting in a final charge that may appear unrelated to child sexual abuse to the untrained eye. Abuse Prevention System offers comprehensive online training meant to equip screening personnel. 
Custom Search Packages to Fit Your Organizations
Child-serving organizations have widely varying needs based on differing programs, geographic location, state law requirements and diversity of applicants. We help shape your background screening to match your specific needs. We'll be with you every step of the way to build a screening solution that works for you.
Ready for the
next step in the
5-Part Safety System?